Our CSI PP-SILENT guitar and bass guitar cable features NEUTRIK® silentPLUG® technology, which allows the user to disconnect the cable from the instrument without causing any loud or crackling noise even if the amp is at full throttle. The newly developed REED switch in the new NEUTRIK® silentPLUG® mutes the guitar signal, thus preventing any noise effectively.
The matching CORDIAL bulk cable CGK 175 with a conductor area of 0.75mm² exhibits low conductor resistance, minimal mechanical noise and a very low capacitance resulting in an overall brilliant sound.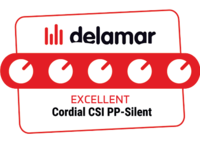 silentPLUG
The silentPLUG® mutes an instrument cable to avoid pops and squeals when (un)plugging.
ATTENTION: Plug the silentPLUG® at instrument side only! Damage may occur if connected to amplifier output.